Nowadays ARGIA is project of general interest with more than 60.000 readers every week in paper according to latest CIES inform, and between 6.000 and 12.000 people check www.argia.eus every day. The main sections are: politics, feminism, international, economics, culture, education, society, Basque language, history, environment and opinion. They publish a weekly magazine (ARGIA), a monthly magazine (Larrun), a yearbook (Gakoak) and the web page is actualized every day with around 15-20 pieces of news from monday to friday.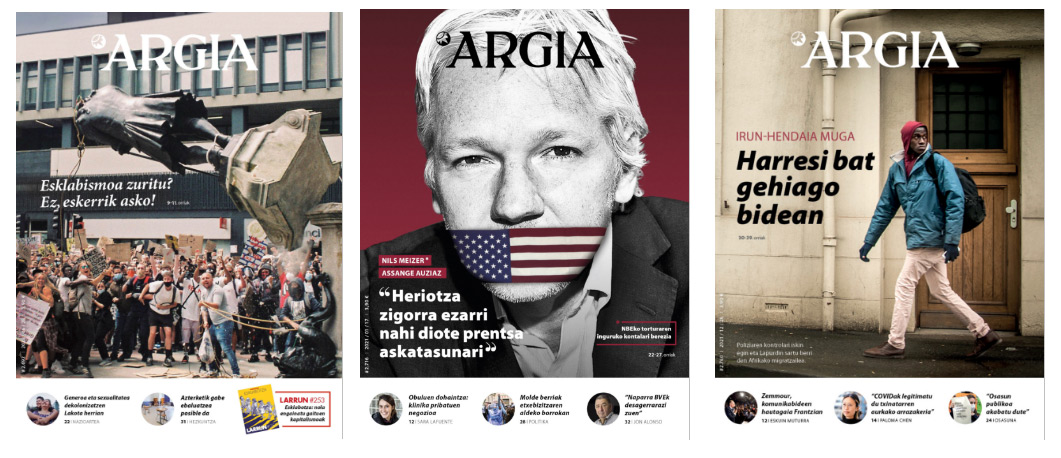 How are we organized? Who is the owner?
ARGIA is also part of a four company group created around the magazine and that support each other. Ametzagaiña group is formed by Argia, by the printery Antza (25 workers), by the informatics company Adur (60 workers) and by the web design and communication company Iametza (13 workers).
Every new generation in ARGIA is taught how important it is to keep the economic independence of the project –without economic independence, there is no independent journalism–. Nowadays 23 workers out of 26 are the owners of ARGIA, and every worker is offered to buy their participation in the company after having worked in ARGIA for two years. ARGIA has been very close to close down many times, but it always has gone through and it is still publishing and reaching thousands of people with its information, after 103 years since it was first published. Nowadays the project is stabilized and workers defend they would never accept to leave this project on someone else's hands, like a corporation or a bank, even their salaries are doubled.
ARGIA chose to be a cooperative to give space to the workers: space to decide, space to manage, space to learn how to manage such a project. Every important decision is taken among all the workers, with the philosophy one person, one vote. ARGIA is an inter-generational project. Nowadays the youngest worker is 20 and the eldest 63, and it is the same with the collaborators writing regularly in ARGIA.
The working-place pavilion is ARGIA's property, which was bought 20 year ago and recently finished paying for it. ARGIA in 2022 had a 1'4 million euros budget and every year the strategy is decided in order not to lose money. To earn money is not the main aim of the project, but to inform, as best and as much as possible to the biggest audience. When there is an economic profit at the end of the year, it is either used to invest in the project, to improve workers' wages and working conditions, or to keep it in reserves to deal with future crises.
ARGIA is organized in three main sections (journalism, advertisements and administration) and every worker is in one of these three sections. But in the same time, the team is organized in work groups, in order to work on matters that affect to the whole project and exceed the sections: subscriptions, new products, online shop, formation, Argia Awards, etc.
There is no a boss in ARGIA and all the relations are based in mutual confidence. The team is organized with a horizontal system and a rotatory direction board which is chosen by the workers and it is maximum for five years. In 2019 the team decided to remove the figure of director of the magazine.
How is ARGIA financed?
Our main sources of money are: subscriptions (%40), public subsidy for working in a lesser-used language (%35), advertising (%13) and diversification strategies (%12).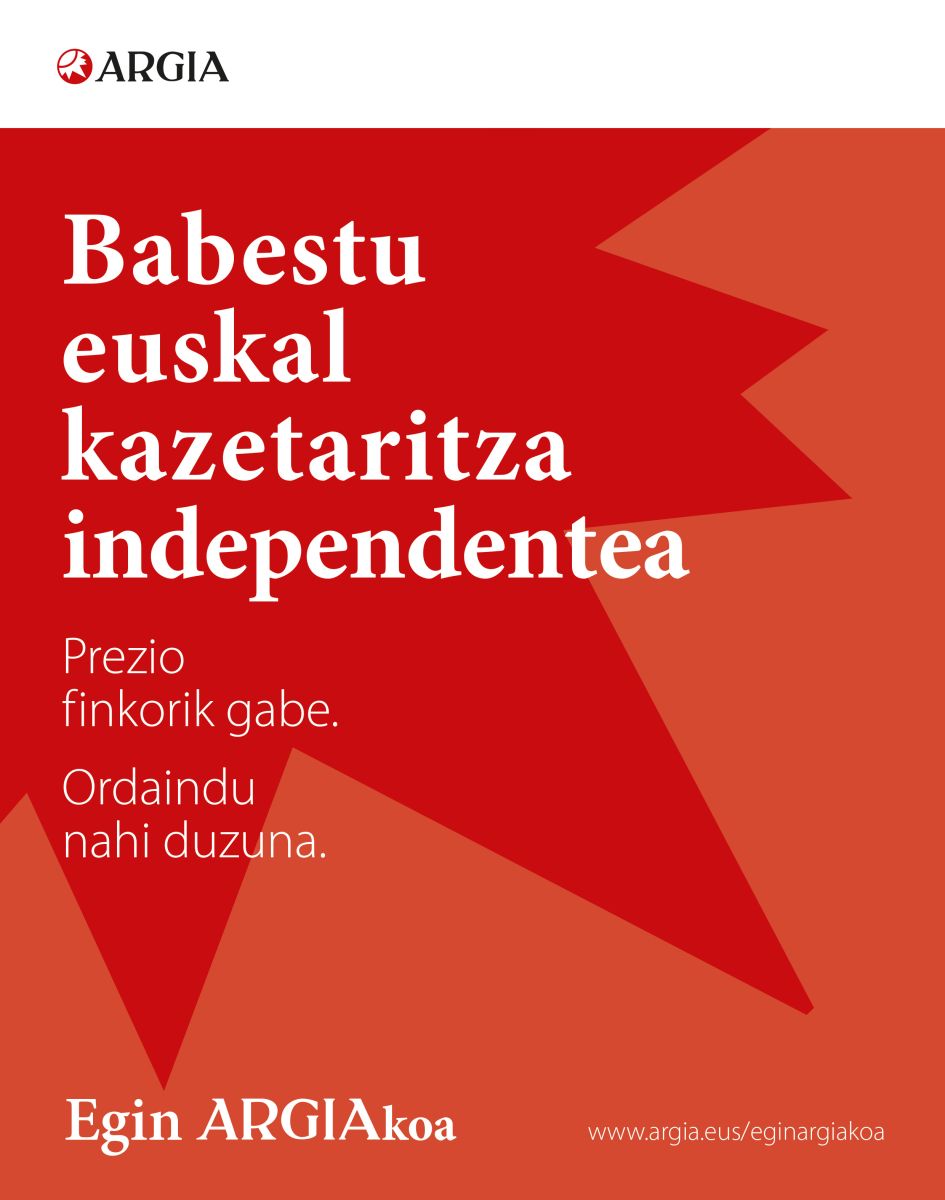 Unique subscription model
ARGIA is supported economically by around 6.000 individuals and 800 collectives's subscriptions (schools, bars, social movements, public libraries, squat houses...). With their subscription (40% of the total income), people don't buy a product of ARGIA, they support the project ARGIA. Subscriptions guarantee the project to resist even with punctual problems –even if the team has to lower their salaries or take harsher measures– because with the subscriptions it is ensured a big part of the money needed to move the project forward.
In 2016, after two years of internal reflection, ARGIA changed the subscription model in order to adapt it to actual digital times. It was then that ARGIA decided not to fix a prize for the subscription, and to let the people decide how much money they want to give for the project and what do they want to receive back. The concept is simple, but we have not found any other example of paper-based media letting the community decide how much want to pay (even if it's zero). Since the team removed the fixed prize (12€/month for receiving the weekly magazine at home), on average, people decide by their own to put more money for the project than what we asked before. Now some people put 20€ per month and thanks to them, some other people put 5€ or even less and can receive the magazine. Some thousands-people's community is organized to take care of each other. Some people want to receive the magazine every week, some other once a month, some just want to make a financial contribution but continue reading via Internet... Thanks to the people who put more than the average, ARGIA can support "vulnerable" collectives in the society and campaign to bring them to the community. ARGIA sends magazines for free and help to fulfil their basic right to be informed –hundreds of prisoners, osteliers who have had to close their establishments due to the pandemic, people learning Basque in places where the language still is not official like in the Northern Basque Country or South of Navarre...–.
In the last 8 years ARGIA has increased 25% the subscriptions when almost all the paper-based media are losing support and they are deciding to close down their websites, trying to get money from it. We have chosen another path, outside the capitalist market-rules.
Public subsidy for lesser used language
The second more important source is a public subsidy for working in Basque language (35% of the income). What is this? Prohibitions to speak Basque language, punishments in schools, humiliations... are long documented against Basque people. The Basque speakers have been attacked by the Spanish and French states' politics during the last centuries and that is why Basque is a lesser used language –nobody abandons it's mother tongue without suffering–. Since 1992 the Basque autonomous government passed a law to help revitalize the language, and they give a public subsidy to the projects meeting certain requirements in the field of linguistic normalization. As media project completely in Basque language, ARGIA helps revitalize the language and that is why a subsidy is received every year. However, it is important to draw the full painting, and this subsidies are not all the public money institution seed in the mediatic landscape.
Advertisements
ARGIA's advertisers (13% of the income) buy only advertising space to communicate their services and products: not a differential treatment of the newsroom. ARGIA's advertisers are usually small businesses that respect the project. The different advertising formats are always conveniently identified.
When talking about public financing and journalism, the core fact that maintains the status quo in the field of media all around the globe are institutional advertisements. Here ARGIA is clearly punished by main Basque institutions comparing to all the other national media. Big Spanish media receive much more public money this way than Basque media in subsidies.
Diversification
The fourth source is what we call diversification (10%). Since the beginning of the 80's ARGIA has had very clear the need to create an intercooperational system with other independent companies created by us, related to our journalistic working process (like a printery, or an informatics company or a company dedicated to make webpages and communication works)... to survive, because just making journalism in Basque was not economically sustainable. Nowadays, it is, and we are four independent companies –all of them created around the core project which is ARGIA–. Together we form the group called Ametzagaiña (in total, more than 120 workers), and all of them economically sustain and protect ARGIA. For us it is very strong to have our own printery, or a complete informatics company, or a team working on webpages...
Moreover, ARGIA also creates its own projects to earn money. The most successful ones are the books on gardening (in one year 10.000 books sold), table games in Basque, the campaign No one is illegal together with the Senegalese street vendors' community of Bilbao, and our las Land Calling People campaign with small farmers working the land through agroecology... these campaigns help us finance independent journalism and are very important for ARGIA.

ARGIA's visions
We make independent journalism because we are independent economically. The ownership is crucial in everything, so is in journalism. We are very happy to be sovereign, the reader will not find a bank, a corporation or a political party besides our words. We are committed to our community.
We see our values as working-fields for us, and we try to give new steps forward. For example, four years ago, we removed the plastic bag we used to send the magazine to our subscriptors. Nowadays we use a bag made of biodegradable material and that way we reduced 200.000 plastic bags per year.
Another example is our help on the creation of bike-based delivery cooperatives in different towns of the Basque Country. This way we deliver our magazines by bike and help to build alternatives to corporations like Glovo or Deliveroo that do not respect workers' rights. In 2022, our magazines are delivered via these cooperatives in Bilbao, San Sebastian, Pamplona and Vitoria-Gasteiz, for example.
Talking about digital challenges, we live in societies where media have enormous power. Never ever so few people had so much power on deciding what would millions of people read or see, or just censuring information. We make independent journalism and share all our information for free (CC-BY-SA) because we believe in the public function of journalism. That is the logic for independent journalism, in our opinion.
Technological sovereignty is another of our working lines. We impulse our own platforms, such as e-mail newsletters to minimize our dependency on these giant social media and we have some 11.500 people receiving our everyday and weekly newsletters. We recently publicly announced that we removed Google Analytics and social media tracking buttons from our website, which recollect too much sensitive information about our community and our website. We installed the free software Matomo tool instead of it and made a public campaig: Good bye Google, hello Matomo.
We have some thousands of followers in Facebook, Twitter, Youtube, Instagram, Telegram... but we have it very clear what they are: corporations with the aim of earning money. That is why, we also use on our everyday basis free software based Mastodon or PeerTube, and we inform about these issues regularly.
Our next big project, where we are working for 4 years, is the digitalization of our 80.000 photo archive. ARGIA owns important documents relevant for modern Basque history, taken during the last five decades. Our aim is to put them in a special web page, free for everyone, tagged and easy to download in high quality, with Creative Commons BY-SA licenses, as a present to our people. Is our way to say thank you for the support.
Finally, ARGIA's main challenge is to continue increasing in number of subscriptions. For the eighth consecutive year, in 2022 we continue to grow.
Where do we come from?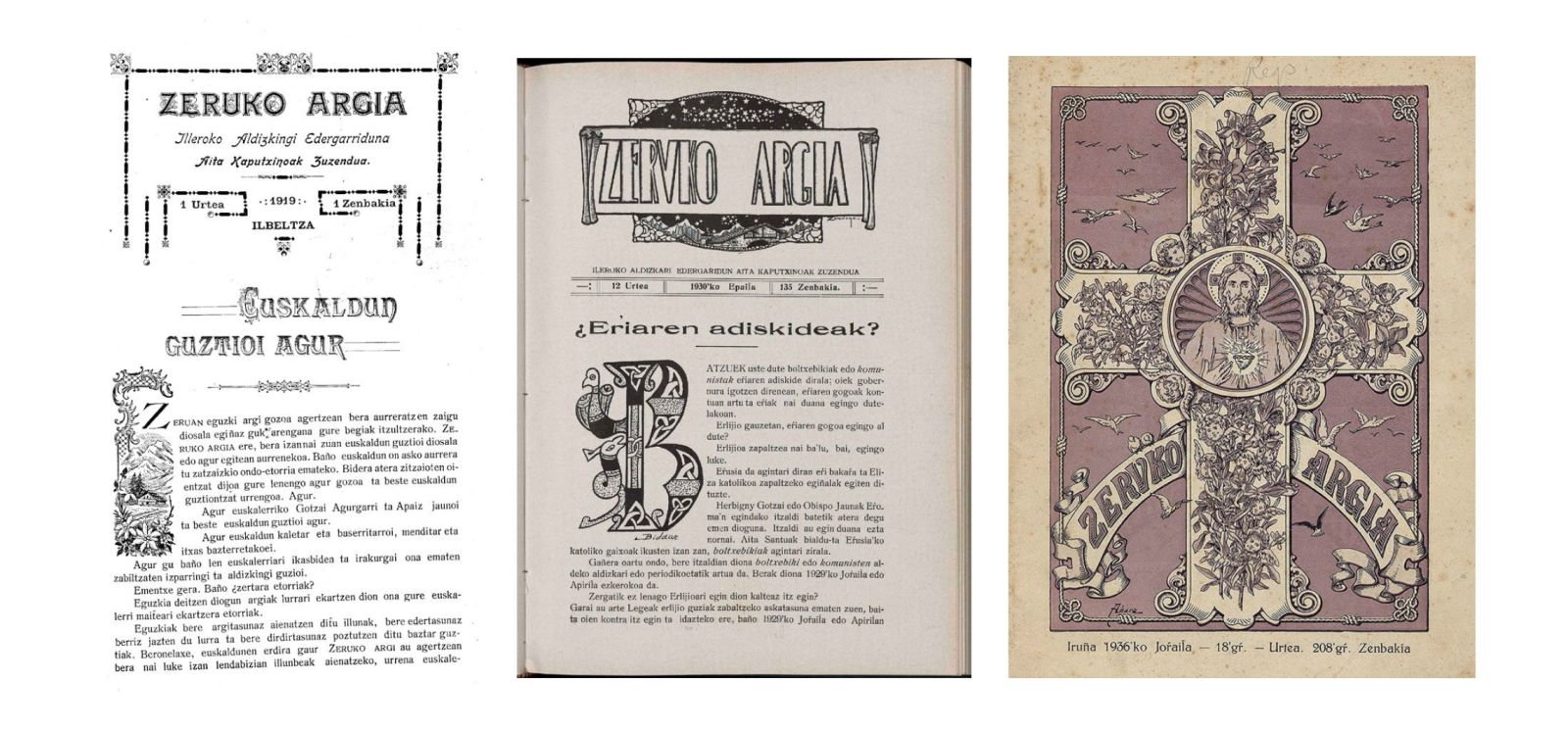 In 1919 some Capuchin priests created Zeruko Argia ("Light of heaven") in Pamplona, a monthly religious magazine completely in Basque language. It worked until 1936, when the Spanish civil war began and, the next fascist dictatorship forbid publishing anything in Basque language. Between 1946 and 1948 fifteen numbers were published in Venezuela and New York. Clandestinely at first, and later, saying it was a religious publication, Zeruko Argia came back with their publications in the 1950's. Little by little they began making journalistic works between religious articles. It was the only media working in Basque and the matter it was "religious" helped go through censorship applied by the Spanish regime. Basque intellectuals joined the magazine and began writing in its pages.
In the 1960's, as the Basque political environment was turning turbulent and ETA began its armed fight against Franco, the content of Zeruko Argia began the change from being a religious publication to a socially-committed magazine. Zeruko Argia was still the only publication in the Basque Country in Basque language.
At the end of the 70's, in parallel with the Basque pro-independence movement, Zeruko Argia had become a combative magazine based in San Sebastian. As example what Zeruko Argia had become, the front page below in the left prays: "fighters to the streets", the second shows a tortured person in the front page and the third and fourth denounced police repression. The dictator Franco had died in 1975 and the regime was about to fall, and Zeruko Argia was always walking on the red line against censorship. The religious owners were not happy at all, they were losing money and decided to sell the magazine or close it down.
At that moment, some few workers decided not to let the magazine disappear. Their main idea was that an oppressed language needs its media (not bilingual). They risked all their personal belongings and bought the magazine. At that time the name was changed from Zeruko Argia ("light of heaven") to Argia ("light" or "clear"). The project was heavily in debt and through militant work they managed to stabilize it creating two other companies –printery and informatics– that would support technically the magazine.
The team working in ARGIA in the decade of the 80's built the economic pillars of the current project by creating an intercooperational economic group around ARGIA, but not only that. They had an undisputed influence on the Basque journalistic landscape, working on the creation of a newspaper (together with more people) in Basque language: Euskaldunon Egunkaria. ARGIA's journalist Pello Zubiria was the first director of the newspaper which published what was going on in the World in Basque language, daily, for 13 years. On 20th February 2003, the black day for Basque journalism, remembered by many people in the Basque Country every year, the Spanish authorities closed it down due to invented allegations of an illegal association with ETA, the armed Basque separatist group. The police tortured the members of the newspaper's executive board during detention –i.e. Zubiria had to be transferred to the hospital in Madrid during detention– and after seven years, in 2010 the defendants were acquitted on all charges related to ties to ETA. In 2012, the European Court of Human Rights in Strasbourg condemned the Spanish State for not investigating torture allegations, in Martxelo Otamendi's case, the last director of Egunkaria.
ARGIA continued its path as weekly magazine during the 80's, 90's, 2000... with its ups and downs. For example, it was the first Basque media creating it's own web page on the Internet and, always consciously, decided to put all the information for free there, or in the same way, ARGIA was the first media in the Basque publishing multimedia videos in the web page, much before than many big Spanish media. After the economic crisis (2008) that hit Spain and the Basque Country hard, the magazine made a collective process of reflection on what kind of journalism the team wanted to do and all together actualized which were the important values for the team. Since then, ARGIA's journalism is considered more critical with the economic and political authorities (or directly the police). ARGIA was, for example, the first media in the whole of the Spanish State which was punished with the infamous Gag Law for publishing a photo where a policeman could be seen making a detention. ARGIA decided not to pay the fine, went on court and after a year, won.
Here you can see all our magazines.