In 1919 Zeruko Argia ('Heaven's Light') was founded as a religious magazine; under its later name (Argia – 'Light') it became a current affairs magazine, and it has played a major role in the development of modern Basque journalism. "It has been a meeting place for all the Basque creators, people working in culture and journalists."
Altogether it has published more than 2,600 issues and thousands of pages, all of them entirely in Basque. In collaboration with the Basque Government's Culture Department ARGIA has started to digitalise all of those issues with the objective of making them available on the website. "We have had this objective for a long time: making the whole legacy available to everybody", they have said.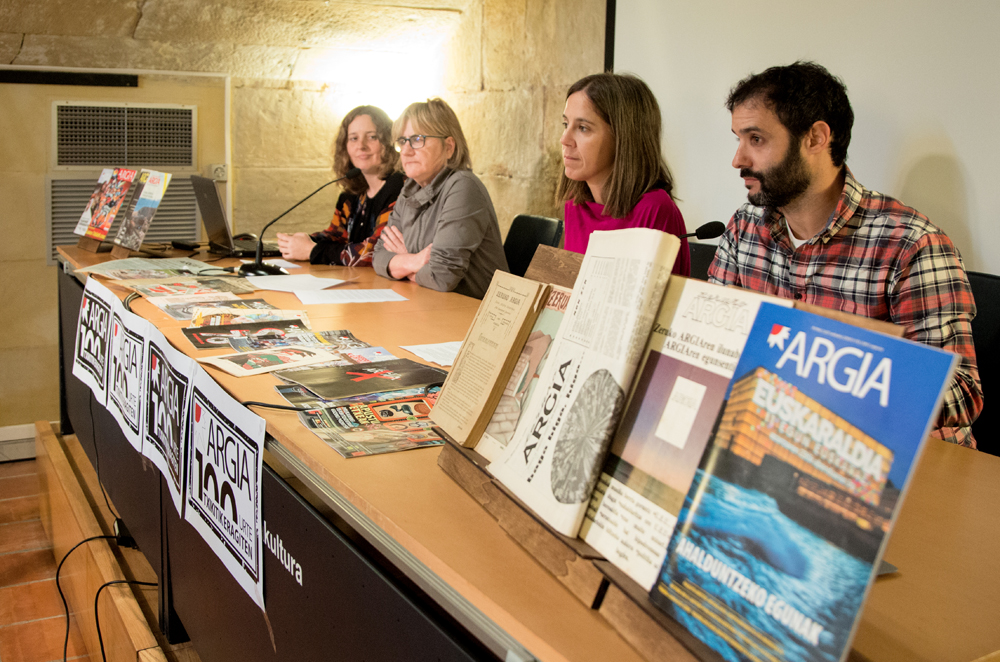 In addition to that, the process of digitalising the historical photographic archive is also underway. There are thousands of photos which reflect social and political events in the Basque Country over the last century, many of the connected with Basque cultural activity and local movements.
ARGIA is going to bring out a special issue in 2019 to celebrate its 100th anniversary, and there will be round table discussions in every Basque province. "We've turned one hundred, and we want to last another one hundred years", say the people at ARGIA. They also want to take advantage of the anniversary to celebrate the whole of Basque journalism having "overcome many difficulties" and to give it the recognition which it deserves: "ARGIA has turned one hundred, as has the whole of the Basque press along with it."
This article was translated by 11itzulpen; you can see the original in Basque here.
ARGIAn egiten dugun kazetaritza independenteak bultzada merezi duela uste duzu?
Informazio askea lantzen dugu ARGIAn, langileok gara proiektuaren jabeak eta gure informazioen atzean ez duzu sekula multinazionalik, bankurik edo alderdi politikorik topatuko. Gure ustez, burujabetza guztien oinarrian dago informazio burujabetza, ezagutzen dugunaren gainean pentsatzen eta erabakitzen dugu. Horregatik diogu kazetaritza independentea dela demokraziaren oinarrietako bat.
Aldizkaria paperean etxean edo e-postan PDFan jaso nahi duzu? Pozik hartuko zaitugu ARGIAko komunitatean. ARGIAkoa izateko, nahi eta ahal duzun ekarpena egin dezakezu, eta bueltan egoki ikusten duzuna eskatu. Indartu dezagun indartzen gaituena!