Sixteen years have gone by since the government of Gipuzkoa first announced the incinerator project. At that time there was 20% recycling in Gipuzkoa, but waste material separation had begun in many towns, and, as well as collecting less mixed refuse, they have also shown that it is possible to recycle 80% of waste material. But to do that, the anti-incinerator movement believes "the will to do it and intermediary work are required".
At the end of the demonstration two teachers from a school in the incinerator-affected town Lasarte-Oria explained the situation they are faced with. They underlined the possible consequences of having an incinerator 500 metres from their school. "Nitrous oxide, carbon monoxide, methane, dioxins… We'll be breathing all of that it. They're also going to build high voltage lines near our school. Should we accept pollution near an already existing school?"
The demonstration organizers also reminded protesters of a piece of news which may be decisive: On 17th January the European Parliament stopped subsidising incinerators, "a serious blow to the incinerator's finances", in their words.
Support for people to be tried for stopping the incinerator
At the demonstration there was wide-spread support for Ainhoa Intxaurrandieta and Iñaki Errazkin, members of the pro independence Basque left coalition Eh Bildu, who were ellected after the electoral win. When they were in office in Gipuzkoa they fulfilled their electoral promises and stopped the incinerator in 2013. They are going to be tried in April. Markel Olano's government has started the project once more and is taking the previous government members to court: "Iñaki and Ainhoa, we're with you!" was chanted time and again in Donostia.
The anti-incinerator movement described taking those two people to court as "disgraceful". "If there is to be a trial, let them try the corrupts who've spend enormous sums of our money on the incinerator."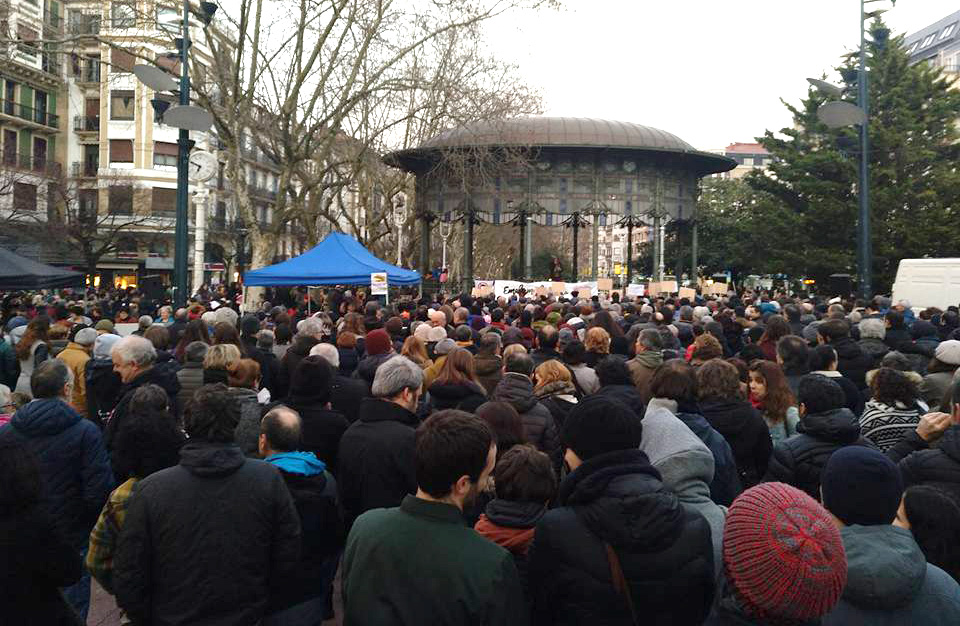 This article was translated by 11itzulpen; you can see the original in Basque here.
ARGIAn egiten dugun kazetaritza independenteak bultzada merezi duela uste duzu?
Informazio askea lantzen dugu ARGIAn, langileok gara proiektuaren jabeak eta gure informazioen atzean ez duzu sekula multinazionalik, bankurik edo alderdi politikorik topatuko. Gure ustez, burujabetza guztien oinarrian dago informazio burujabetza, ezagutzen dugunaren gainean pentsatzen eta erabakitzen dugu. Horregatik diogu kazetaritza independentea dela demokraziaren oinarrietako bat.
Aldizkaria paperean etxean edo e-postan PDFan jaso nahi duzu? Pozik hartuko zaitugu ARGIAko komunitatean. ARGIAkoa izateko, nahi eta ahal duzun ekarpena egin dezakezu, eta bueltan egoki ikusten duzuna eskatu. Indartu dezagun indartzen gaituena!