More than a thousand buses took people to make up the 202 kilometre-long chain. 5,000 volunteers took part in the organization of the event. Citizens put on their neckerchiefs and held hands at midday, and a man called Pablo Muñoa set the Citizens' Pact off in Donostia; it went from hand to hand all the way to the Basque Parliament (for the provinces of Araba, Gipuzkoa and Bizkaia) in Gasteiz.
The contents of the Citizens' Pact had been worked on by Gure Esku Dago (GED) from town to town and in a participative way; it brings together proposals made by different stakeholders in Basque society for the right to decide to become a reality in the next few years.
Because of that the current initiative wanted to have a particular influence on the Self-Governance Committee meeting at the Basque Parliament, wanting it to take the Citizens' Pact into account. The document lists 2,019 reasons to be in favour of the right to decide. GED has announced that it will soon take it to the Parliament of Navarre in just the same way.
The human chain was supported by political parties, trades unions and all types of organizations. EAJ, EH Bildu, Elkarrekin Ahal Dugu, ELA, LAB, ESK, Eilas, Bilgune Feminista, Altsasuko Gurasoak and many other groups came together on the day. Amongst them, ANC, Òmnium Cultural, ERC and CUP from Catalonia. The Spanish political parties PP and PSE declared their opposition to the event, and claimed that it created conflict in Basque society and divided citizens.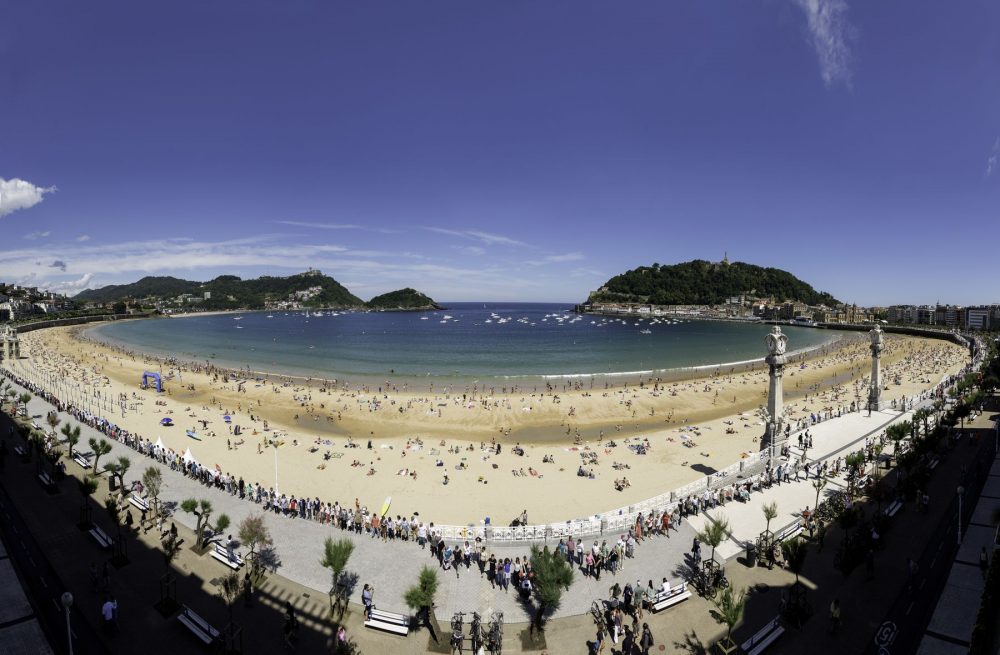 The key to a new political cycle
Gure Esku Dago spokespeople Jone Amonarriz and Angel Oiarbide read a document in front of the Basque parliament at the end of the event in Basque and Spanish respectively. They emphasised that the date was not going to be forgotten and that the right to decide will be key to the next political cycle. "It is indispensable in order to guarantee coexistence and it enables us to defend all types of projects." Members of the platform are sure that Basque citizens are aware of the strength of their power and that they will make use of it over the next few years.
They also made reference to other struggles and proclamations in the main message and underlined that the right to decide has an influence on all of them. Next year GED will carry out a special process of reflection in order to see how all of that will happen, and they have already announced that they are going to work for the creation of a permanent network in favour of the right to decide.
In 2014 another human chain linked Durango and Iruñea
In June, 2014 GED connected Durango, Bizkaia, and Iruñea, Upper Navarre, with a 128 kilometre-long human chain. 150,000 people came together to do that. GED has held numerous multitudinous events since it was founded in 2013, but its most significant initiatives have been votes on political status for the future held in different towns and cities; almost 200,000 people have taken part in them. The voting phase will conclude this year in Igeldo, Donostia and Iruñea.
This article was translated by 11itzulpen; you can see the original in Basque here.
ARGIAn egiten dugun kazetaritza independenteak bultzada merezi duela uste duzu?
Informazio askea lantzen dugu ARGIAn, langileok gara proiektuaren jabeak eta gure informazioen atzean ez duzu sekula multinazionalik, bankurik edo alderdi politikorik topatuko. Gure ustez, burujabetza guztien oinarrian dago informazio burujabetza, ezagutzen dugunaren gainean pentsatzen eta erabakitzen dugu. Horregatik diogu kazetaritza independentea dela demokraziaren oinarrietako bat.
Aldizkaria paperean etxean edo e-postan PDFan jaso nahi duzu? Pozik hartuko zaitugu ARGIAko komunitatean. ARGIAkoa izateko, nahi eta ahal duzun ekarpena egin dezakezu, eta bueltan egoki ikusten duzuna eskatu. Indartu dezagun indartzen gaituena!